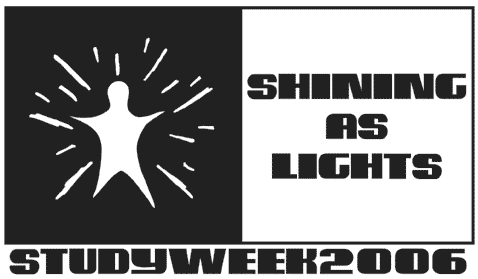 Dates: 8-16th July, 2006
Theme: Shining as Lights (Paul's letter to the Philippians)
Colour: Blue
SW2006 PHOTO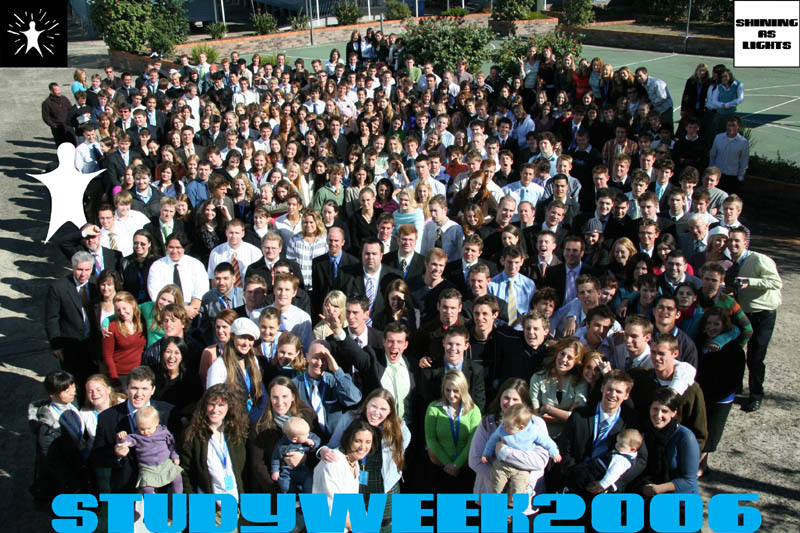 Download the photo in High Resolution (2496 x 1664 pixels) (3.2 MB file size)
PHOTOS
THE WEEK
As usual, the focus of Study Week was the daily discussion groups, where everyone had the opportunity to discuss what they had learnt from their own bible study, and share the insights they had gained and encourage each other.
The introduction to the study notes and topic:
Paul's inspired letter, from a Roman prison, to the Philippian ecclesia in Macedonia will form the basis for our studies during Study Week 2006, God Willing. We begin to understand Paul's great love for them when we see their example of selfless labor and personal sacrifice, as each humbled themselves to "let this mind be in you, which was in Christ Jesus".

Like us they received the privileged call from God to be part of his eternal family and so "pressed on towards the mark of the prize of the high calling of God in Christ Jesus" Paul exhorts them to continue in their devoted daily service to God with Christ as their example.

By a study of this letter and fellowship with other young people during this week, we aim to develop a greater conviction in our faith of God, so that we may strive together, shining as lights, working for Christ.

So at the day of his appearing we may stand fast together in our faith.
STUDY NOTES AND SUMMARIES
A new set of study notes was written especially for Study Week 2004.
To download, right click on the link and choose "Save Target As..."
SONG
The song "Shine As Lights" was written especially for the week
| | | |
| --- | --- | --- |
| Shine as Lights | Details | Link |
| Sheet Music | Two Staff | PDF |
| | Piano | PDF |
| | Soprano | PDF |
| | Bass | PDF |
| Recording | Music & Vocals | MP3 |
| | No Vocals | |
AUDIO
Sessions during the week were recorded and are available for download
Main Sessions

Speaker

Size (MB)

Link

Exhort

Jacob Morgan

5.7

"Sharing the Life"

James McCann

9.7

"The Jigsaw of Life"

Mike Steele &
Steve Mansfield

11.2

"Knowing Christ"

Darren Tappouras

11.2

Exhort: "The Peace of God"

Tim Badger

10.4

Meditations

Speaker

Size (MB)

Link

"Rubbish"

Philemon Burney

2.7

"Humility"

Chris Nutter

2.3

"Enemies of the Cross of Christ"

Jono Russell

3.2
Links to other good studies on Philippians which were used as a resource for preparation for the week
Study Series

LINK

Philippians – Bro John Martin
Study 1: Background – 2 Corinthians 8
Study 2: Background – Acts 16
Study 3: Philippians 1:1-26
Study 4: Philippians 1:12-24
Study 5: Philippians 2:5-11
Study 6: Philippians 2:12-30
Study 7: Philippians 3

Philippians – Bro Bob Lloyd
Study 1: Which Way to Go?
Study 2: What Must I Do to Be Saved?
Study 3: I Can Do All Things Through Christ
Study 4: Work Out Your Own Salvation
Study 5: Be of One Mind
Study 6: Don't Worry Over Anything, Whatever

Philippians – Bro Philemon Burney – Bible Classes 2006
Study 1: Background & "Striving Together…"
Study 2: "Esteem Others Better Than Yourself"
Study 3: "Holding Forth The Word Of Life"
Study 4: "Count All Things Loss For Christ"
Study 5: "Stand fast In The Lord"
Study 6: "Strengthened Through Christ"
VIDEO
What is Peace? Shown at the Song & Praise night
Visions of the Kingdom
Study Week 2006 Launch
Pre Week Promo - shown 2 weeks prior to the week