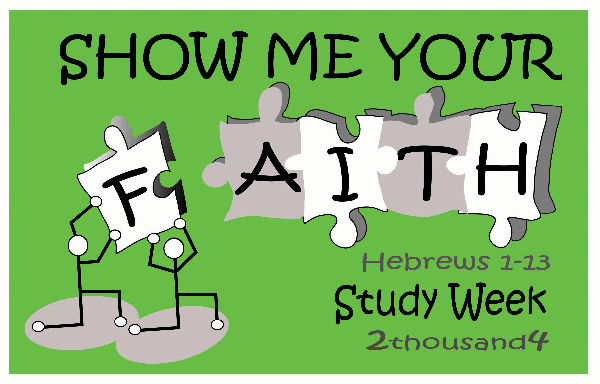 Dates: 3-11th July, 2004
Theme: Show Me Your Faith (Paul's letter to the Hebrews)
Colour: Green
THE WEEK
As usual, the focus of Study Week was the daily discussion groups, where everyone had the opportunity to discuss what they had learnt from their own bible study, and share the insights they had gained and encourage each other.
The introduction to the study notes and topic:
This Study Week, God Willing, we will be challenged to examine the basic principles of our faith, the building blocks upon which our life is built. Our study groups will revolve around the letter to the Hebrew ecclesia written a short time before AD70. The ecclesia at Jerusalem was facing impending judgment on their world, as Christ had warned in his Olivet prophecy. Their faith was to be tested.

Our focus this week will revolve around the Son of God, his superiority above everything else, and how that faith in him leads to a better, everlasting life. Our faith in the one true gospel is a power that will be seen in our daily life, especially when we appreciate how that faith was shown in the life of our Lord.

We will also consider the faithful of past ages and see why they are emphasized in Hebrews as examples for us. More than ever, there is a need for us to develop a living and an energetic faith as our world too faces impending judgement, when God will "shake the heavens and the earth".

Like Rahab and Noah we want to joyfully leave this worlds impending destruction.
Like Abraham, we seek for a future city as our one true hope.
Like Moses, we need courage as we prepare to leave "Egypt" for the Promised Land.
Let us be always "Looking unto Jesus the author and finisher of our faith, who for the joy set before him, endured the cross, despised the shame, and is set down at the right hand of the throne of God"
STUDY NOTES AND SUMMARIES
A new set of study notes was written especially for Study Week 2004.
To download, right click on the link and choose "Save Target As..."
AUDIO
Recordings of the sessions at Study Week 2004.
To save to your computer, right click on the link and choose "Save Target As..."
SESSIONS:
| | | | | | | |
| --- | --- | --- | --- | --- | --- | --- |
| | | | | | | |
| Sunday | Exhortation | Hebrews 10 | Adam Byrnes | 53 | 12 | |
| Sunday | Evening | Hebrrews Overview | Mike Wolstencroft | 57 | 13 | |
| Monday | Evening | Angels: A Day in the Life Of | David Olsen | 40 | 9 | |
| Tuesday | Evening | Does it Matter What You Believe? | Darren Tappouras | 72 | 17 | |
| Wednesday | Evening | Motivational Talk | Rod Dawson | 58 | 14 | |
| Wednesday | Meditation | Faith | Paul Foster | 11 | 3 | |
VIDEOS
GO KARTKING